Reception
Join us at the GSA Annual Scientific Meeting for the UCSF Emancipatory Sciences Lab and Routledge Aging & Society Book Series Reception! The Reception is taking place at the Tampa Marriott Water Street, Meeting Room 1 at 6pm ET. Be sure to arrive early for the FREE book raffle at 6:30pm ET!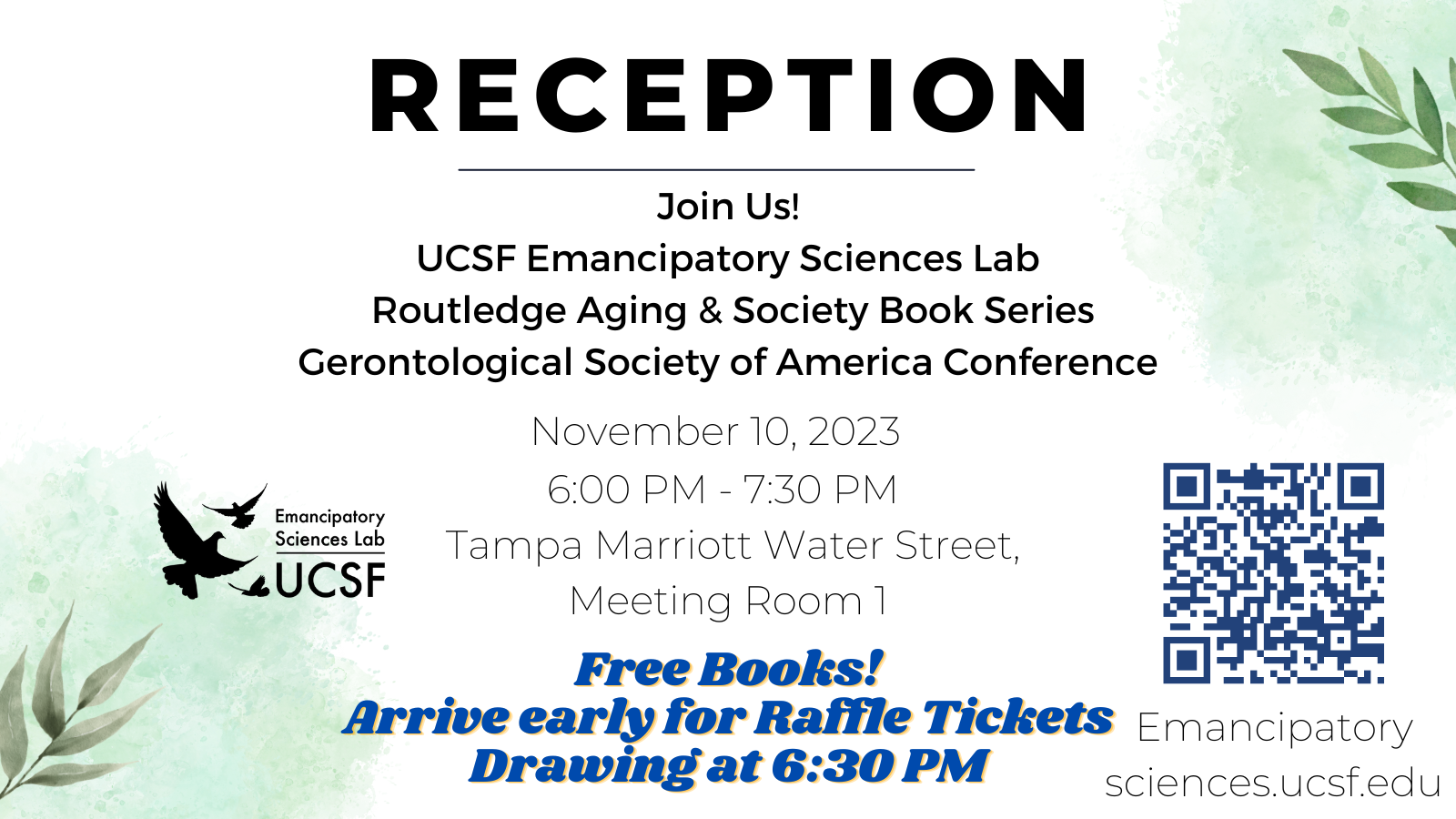 Symposium Session
Nicholas B. DiCarlo and Brittney Pond are co-chairing a symposium titled Emancipatory Pedagogy in Gerontological Spaces on Sunday, November 12th from 10-11:30AM ET. Dr. Ian Johnson, Dr. Austin Oswald, and Nicholas B. DiCarlo will be presenting. Here is the abstract available in the GSA program:
Awareness of the field of gerontology has been bolstered by increased training and education programs and other critical pedagogies in several disciplines in higher education. Public and philanthropic initiatives have also supported the development of scholars and researchers in this field (Gross & Eshbaugh, 2011; Merz et al., 2017; Snyder, Wesley, Lin & May, 2008; Wesley, 2005). Furthermore, research notes that incorporating experiences of LGBTQ+ older adults in gerontological spaces can help to address a lack of representation in higher education and provide critical training to support LGBTQ+ older adults (Lipinski, Wilson, Kortes-Miller & Stinchcombe, 2022; Smith, Altman, Meeks & Hinrichs, 2019). This symposium aims to discuss critical pedagogies and emancipatory gerontology in higher education through an intersectional lens. We aim to address the question, where do critical pedagogies flourish, where are they needed, and in what ways? Presenters discuss multiple aspects of this question, describing the ways in which access is a critical component of emancipatory pedagogies, including 1) how we learn and teach abolitionist gerontology in interdisciplinary spaces 2) confronting ableism and ageism in gerontological spaces as part of intergenerational pedagogical praxis and 3) highlighting the need for LGBTQ+ aging education in curricula by discussing a student-led "queering gerontology" campaign with tangible outcomes.
NEW Podcast Episode
We will be recording a new field trip episode of EDGE Runners at GSA, asking folks about their work. Come chat with us about your work!
LGBTQ+ Resource List
Given the discriminatory policies in Florida and as we will be in this geopolitical context, we wanted to provide a list of resources for anyone seeking support. Please see our flyer with LGBTQ+ resources below.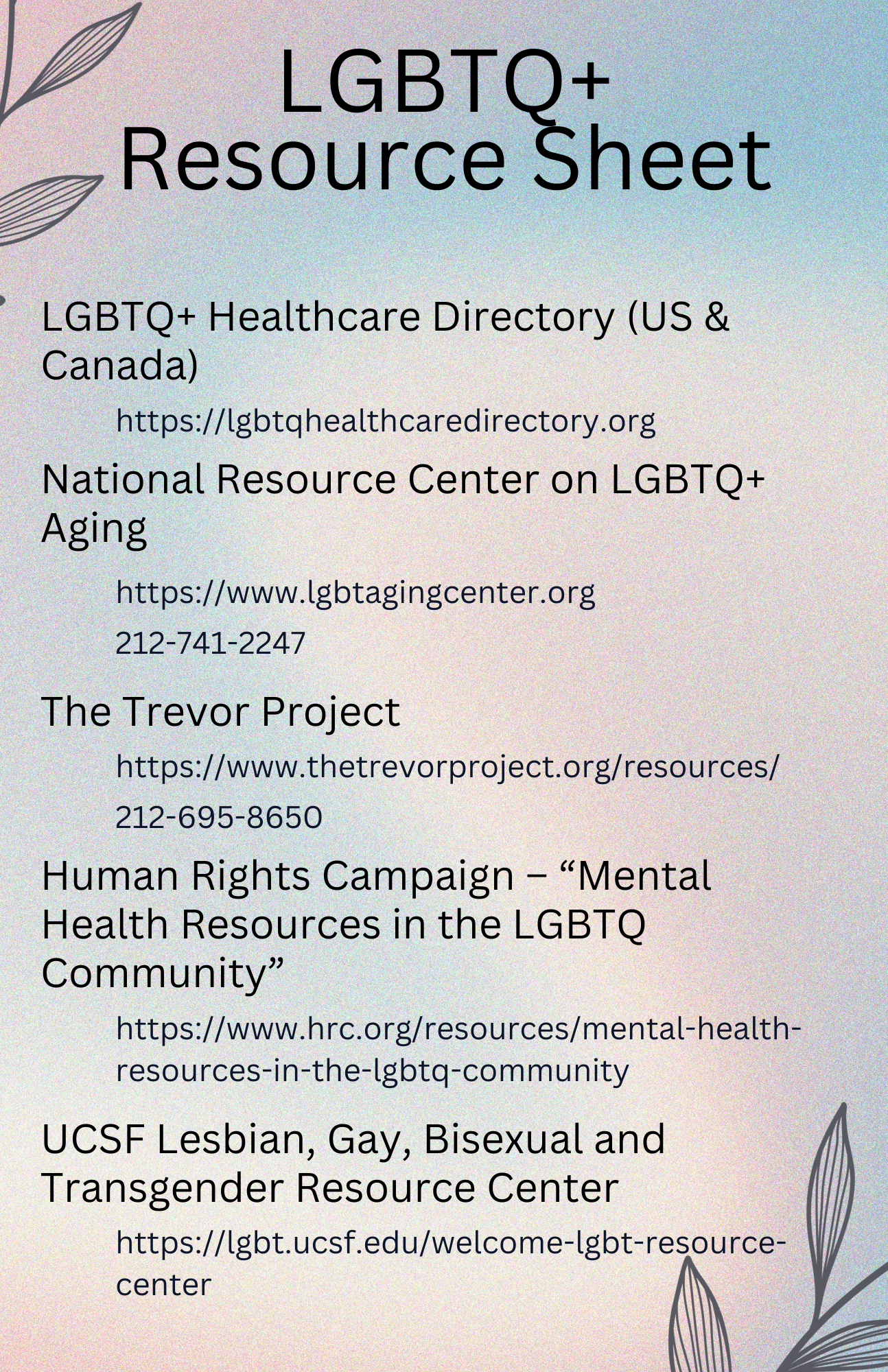 ---
Brittney Pond is a co-Assistant Director of the Emancipatory Sciences Lab and a doctoral student in the Department of Social & Behavioral Sciences at UCSF.